Surely, there could be a lot of people when reads about or hears the word "Rioja", immediately thinks about its most famous drink. This association is something inevitable, but we invite you to discover and explore this region surrounded by Soria, Navarra, Álava and Burgos, that offers a lot more leisure and adventurous alternatives to seize to the max your stay in these Rioja's lands. Activities so different, like a balloon ride over Haro, an off-road route through Ezcaray or an exciting bungee jump in Jubera, are waiting for you.
1. Horseback Route in the Sierra of Demanda.

We propose to you a ride by a horse, that departs from the location of Anguiano to continue through the green woodlands of the Sierra of Demanda. This activity is suitable for people without experience, and even for whole families. The horses know the terrains and are accustomed to be ridden by rookie riders, meaning that the fun times, combine with safety, are guaranteed.
2. Enotourism in the Valpiedra wineries.

If you are staying in La Rioja, it is clear that you can't go without visiting one of its gran wine cellars and vineyards. Whether you are a connoisseur of this delicious drink, or not, to meet the elaboration process or itself and taste it. On this case, we propose a visit in the Valpiedra estate, where a huge winery and 80 vineyards hectares will be waiting for you. In addition to the tasting, you will take a wine bottle as a gift. Can you ask for more?
3. Bungee Jumping in Jubera.

If you are an unconformist and you are always looking for the most extreme experiences, you won't find nothing more brutal in this region. Experience the incredible sensation of jumping to the void, from 35 meters in height. You will also have 2 jumps, so you can try different jumps modalities, like face-front, and then backwards. Are you ready for the double excitement?
4. Canyoning in the Brieva River and the Najerilla.

In the surroundings of Anguino, you will find the perfect cliff to enjoy a canyoning session, that goes between the Najerilla River and the Brieva. For 3 hours, approximately, you will pass different obstacles like cliffs, rappels, and ponds, that will make you enjoy without limits. This trail is a low-medium difficulty level, so is suitable for everyone.
5. Canoeing Through the Ebro.

With a canoe route, you will have the opportunity of meeting La Rioja Alta. You will depart from Briñas, and an instructor will guide you from its boat, so for 2 hours, you will discover the most beautiful spots of this landscape full of vineyards and its different type of birds.
6. Paragliding Near Logroño.

Surely there are a lot of times you have through in living the feeling, closely to a bird flight, but haven't materialized that idea… Weill, if you are in La Rioja, you will have the option to making it a reality. You can live 15 intense minutes of flight in Monte Cenzano, in the Sierra of Cantabria or the Sierra of Demanda. And, you will leave with a video of the experience, so you never forget this special day.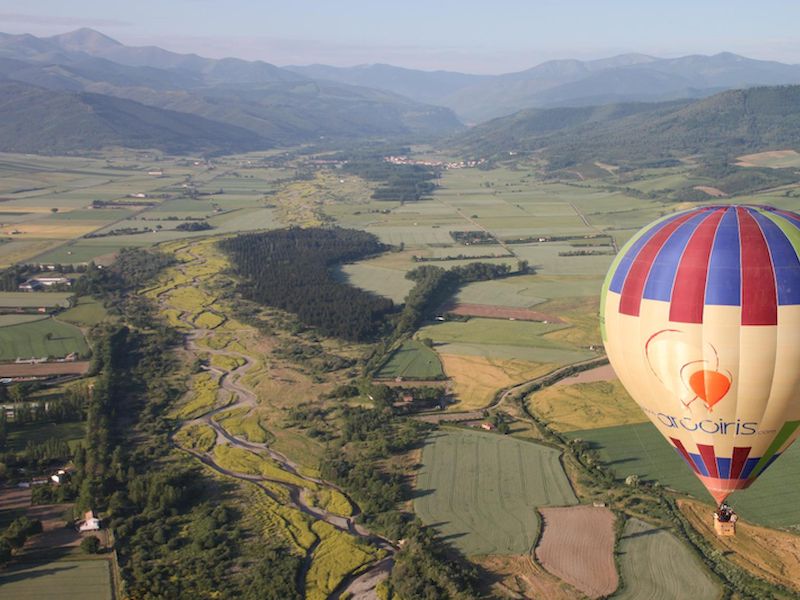 7. Balloon Ride in Haro.

One of the places you need you just can't miss, is Haro. You will overfly the wine tasting from a hot air balloon and cross the city of the Valle del Ebro, and sightsee it like a bird. You will have numerous vineyards under your feet and enjoy an inflating and desinflating ceremony, in addition to a succulent lunch with cava, from La Rioja, of course.
8. Off-road Route Through the Excaray Valley.

Cross the woodlands and forests of Ezcaray Valley in the middle of the Sierra of Demanda. An expert guide, a connoisseur of the zone, will take you through the best places of Alto Oja, and will go explaining everything about the things you find in your path. MOre than 20 kilometers in the middle of nature, you will enjoy the typical Rioja's landscapes.
9. Multi-adventure Circuit in Hornos de Moncalvillo.

Both adults and kids, can pass a great time enjoying the different tests and challenges in the heights. There are different circuits according to age and height. Tibetan bridges, zip-lining, passageways among trees… and a myriad of coordination and skills activities are waiting for you in Hornos de Moncalvillo.
10. Speleology in Torrecilla.

In La Rioja, you will also find a subterranean world, worthy to be seen. In the city if Torrecilla, you will have the opportunity of practicing speleology in the Lóbrega and Peña Miel caves. With the technical pieces of equipment and necessary safety measures, an instructor will guide you through the insides of the cavity to watch the fabulous geological formations and the striking stalagmites and stalactites that decor its passageways.