Menorquín 35 rental, Alicante 1 day
SKU: 51487
Alacant/alicante (Alicante)
Description of Menorquín 35 rental, Alicante 1 day
The Menorquín 35 is one of the many boats you will find in Alicante's beach, and with this offer you will be able to rent it so that you can sail around Costa Blanca for a whole day.

The Menorquín 35 is a very fun boat to sail on. It is made for fishing and it is perfect to run aground, for these reasons it is great to do many different activities.

It has room for 6 people and 4 could spend the night in the cabins. It is also very modern as it has GPS, WiFi, Bluetooth, illumination...

We will provide you with fishing and snorkel equipment in case you want to practice any of these two activities while you are here. This boat has 6.80 meters of total length, showers and a ladder to take a dip whenever we stop!

A professional skipper will be with you, but if you have a sailing license you will be able to drive it yourself, ask us for availability!

Enjoy half day sailing on the Menorquín 35!
What does the activity include
Fully equipped sailing boat.
Skipper.
Fishing and snorkel equipment.
How long the activity lasts
This offer is for a whole day rental.
When your activity starts and finishes
Half day or whole day trips, ask us for availability.
Rewards!
10,50€

Recover the 3% value of each purchase. Rewards can be used in future purchases
Can we help you? Give us a call!
0034 91 790 79 09
How much would you pay for this offer?
Questions and answers about the activity
Questions with the reservation? Call us at 0034 91 790 79 09!
Map

Updating the map...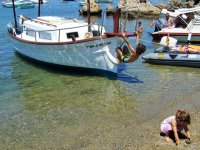 Menorquín 35 rental, Alicante 1 day
Muelle de Levante 6, Modulo 14, Local 2 Alacant/alicante