Boat trip in Santurtzi and visit to Naval Museum
SKU: 60140
Description of Boat trip in Santurtzi and visit to Naval Museum
The region of País Vasco is the place to go if you want to enjoy some great landscape views and delicious local gastronomy. We would like to add a bonus to this experience and for this reason, we will put at your entire disposal this boat ride from Santurtzi Arrantzale across the Abra estuary, and the yachting harbors of Bilbao, Zierbena, La Galea, and Puerto Viejo de Algorta.

With this route, which will start in Santurtzi's yacht harbor, you will not only witness the views of your surroundings from the boat, but you will also have the chance of learning the history of this Spanish autonomous region as you stroll by the streets of this town on foot. You will also see the harbor and our fleet of coastal fishing boats.

This route will conclude with a visit to the Itsasoa Museum, Santurtzi's naval museum, and to the Agurtza boat, which is one of the few wooden vessels used for traditional fishing left in this area.


Choose the time of the day you would like to enjoy this very complete experience since we offer you the possibility of doing it either during the morning or during the afternoon.



What does the activity include
Boat ride.
Ticket to Naval Museum and Agurtza boat.
Ticket to Agurtza fishing technique interpretation centre.
How long the activity lasts
This activity will have a duration of 3 hours in total.
When your activity starts and finishes
You can choose between the morning and the afternoon.
Rewards!
1,35€

Recover the 3% value of each purchase. Rewards can be used in future purchases
Can we help you? Give us a call!
0034 91 790 79 09
How much would you pay for this offer?
Questions and answers about the activity
Questions with the reservation? Call us at 0034 91 790 79 09!
Map

Updating the map...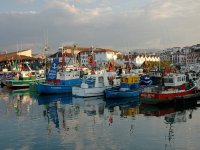 Boat trip in Santurtzi and visit to Naval Museum
Puerto Deportivo Santurtzi, s/n Santurtzi