Bungee jumping for groups exclusively, LLoret
SKU: 6389
Description of Bungee jumping for groups exclusively, LLoret
Come with your friends to try bungee jumping. We will open our centre in LLoret de Mar exclusively for your group. However, on this day, other people could come to join the experience and make it even funnier.

You will jump from a vertiginous crane's basket, 70 meters( 229 feet) high. You will have the feeling of throwing yourself into the vacuum. You have never lived something similar!

The jumpers must weigh more than 40kg(88lb) but less than 125kg (275lb)

The participants must be 16 at least. On the other side, people who are more than 55 must prove a medical certificate which reports that they capable to jump.

Great chance for bachelor/ette parties and special celebrations!
What does the activity include
Proffesional instructor
Safety Harnesses
Assistance during the jump and after de jump
Accident and Civil liability insurance
Shirts as a gift
How long the activity lasts
You will fall for the most exciting seconds of your life
When your activity starts and finishes
If you come with your group, we will open whenever you want
Rewards!
1,50€
Recover the 3% value of each purchase. Rewards can be used in future purchases
Can we help you? Give us a call!
0034 91 790 79 09
How much would you pay for this offer?
Questions and answers about the activity
Questions with the reservation? Call us at 0034 91 790 79 09!
Map

Updating the map...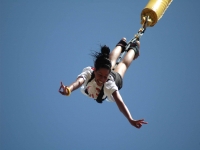 Bungee jumping for groups exclusively, LLoret
Carretera de Lloret de Mar a Vidreras Km. 1,2 (next to Water Word) Lloret De Mar