Caving for beginners: Cueva del Escalón + photos
SKU: 8371
Ramales De La Victoria (Cantabria)
Description of Caving for beginners: Cueva del Escalón + photos
Caving in the Cueva del Escalón is an easy task, as it does't pose any important technical difficulty. Get ready to discover its great number of charms!

Visiting it, we wil go through large chambers, plagued with beautiful rock formations. The cave even has an amazing subterranean lake! Then, the caving session will finish in a small chamber with astonishing calcite crystals.

The complete activity has a duration of 4 hours in total, of which 3 hours and 30 minutes will be spent inside the cave.

Come and enjoy with us the great experience of caving!
What does the activity include
Guides.
The required technical materials.
Light of 1,100 lumens.
Photoshoot.
Civil liability insurance.
Accident insurance.
How long the activity lasts
The approximate duration of this activity is 4 hours.
When your activity starts and finishes
This activity is available from 9:00 to 16:00 hours (flexible schedule).
Rewards!
0,81€

Recover the 3% value of each purchase. Rewards can be used in future purchases
Can we help you? Give us a call!
0034 91 790 79 09
How much would you pay for this offer?
Questions and answers about the activity
Questions with the reservation? Call us at 0034 91 790 79 09!
Map

Updating the map...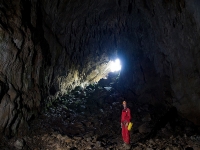 Caving for beginners: Cueva del Escalón + photos
Avenida Miguel de Cervantes 17, bajo A Ramales De La Victoria