Spelunking Coventosa's Ghosts and photos
SKU: 8360
8

)

Excellent!
(
8

)

Excellent!
(
Ramales De La Victoria (Cantabria)
Description of Spelunking Coventosa's Ghosts and photos
The Coventosa cave is renowned for its many chambers, plagued by columns, outflows, stalactites an stalagmites. The most important of its chambers is the Sala de los Fantasmas (literally, the Ghosts Chamber), that constitutes one of the most valuable jewels of the subterranean heritage of Cantabria.

This cave is not only unique because of its beauty, but also because of the abseil stretch of 12 meters (30 feet) that we will easily surpass, as well as the ascent with a rope and wooden ladder.

Do not worry because, whilst you cross incredible places, the guide will be taking photos, so you will have the pics report available to see all the times you want.

We will spend approximately 4 hours and 30 minutes caving, although the complete duration of this activity is 4 hours.

Everything is ready for you to discover this marvellous natural treasure!
What does the activity include
Guides.
The required technical materials.
Light of 1,100 lumens.
Photoshoot.
Civil liability insurance.
Accident insurance.
How long the activity lasts
The activity has an approximate duration of 3-4 hours.
When your activity starts and finishes
This activity is available from 9:00 to 16:00 hours (flexible schedule).
Rewards!
1,05€
Recover the 3% value of each purchase. Rewards can be used in future purchases
Can we help you? Give us a call!
0034 91 790 79 09
How much would you pay for this offer?
Questions and answers about the activity
Questions with the reservation? Call us at 0034 91 790 79 09!
Map

Updating the map...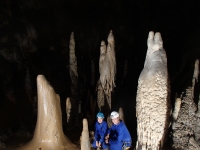 Spelunking Coventosa's Ghosts and photos
Avenida Miguel de Cervantes 17, bajo A Ramales De La Victoria