4h Water Multi-Adventure Circuit, The Pyrenees
SKU: 59021
Description of 4h Water Multi-Adventure Circuit, The Pyrenees
We have created this aquatic multi-adventure circuit based on canyoning so you can enjoy a day of sports and fun in the Pyrenees. We will learn, among others, the basic techniques of canyoning in a controlled and safe environment with your family or friends.

It is a circuit where we will learn to make waterfalls from 1 to 8 meters high, in deep areas and with our original targets, so that you learn to fall right at the point you want.

We will make 2 simple rappels (descent by a rope with descender) of 10 and 15 meters. Ideal to learn this technique for the first time.

We will climb on the walls of the pool, where there are rock climbing dams and in case you fall, you will always do it to the water, so not only is it not dangerous, but it is very fun.

We will finish the activity with an original zip-line of 40 meters with an end in the water, so you can download all the adrenaline.

All this following our philosophy of small groups, personalized attention, and guaranteed smiles
Do not miss this original circuit. Children from 6 years old can do it without problems.
What does the activity include
Complete neoprene suit
Helmet and harness with anchor and descender type 8
Collective material (ropes, backpacks, drums ...)
Guidance and supervision
Accident and Civil Liability Insurance
How long the activity lasts
2 to 3 hours depending on the number of people and the repetitions that are made.
When your activity starts and finishes
Start of activity at 11:00 in the morning.
Rewards!
0,90€
Recover the 3% value of each purchase. Rewards can be used in future purchases
Can we help you? Give us a call!
0034 91 790 79 09
How much would you pay for this offer?
Questions and answers about the activity
Questions with the reservation? Call us at 0034 91 790 79 09!
Map

Updating the map...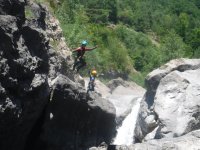 4h Water Multi-Adventure Circuit, The Pyrenees
Carretera Salinas a Plan km.4 Saravillo