Advanced Open Water Diver course, Radaluz
SKU: 15398
Description of Advanced Open Water Diver course, Radaluz
If you have the PADI Open Water Diver qualification, and you want to go a step further, it's time to course the Advanced Open Water Diver. We are waiting for you in Radazul, Tenerife.

This course will help you to gain confidence and develop your skills to make you feel even more comfortable in the water. It will be developed during four days, in which you will receive different theoretical - practical sessions of 2 hours each.

During the training we will teach concepts as buoyancy, orientation or depth. Throughout the program you will be accompanied by an instructor, who will accompany you during all the immersions. In addition, once the course is finished we will also have formed you in the practice of night diving. You can choose, expand and train in the specialty you want.

Finally, I want to remind you that we provide you with all the equipment you need, both the equipment for the theory , and the equipment for the dives. We also facilitate transfers to the immersion spots.

We are waiting for you in Radazul, Tenerife!
What does the activity include
All the didactic equipment.
Immersions.
Professional instructors.
Insurance.
How long the activity lasts
This course will have a duration of 4 days.
Transport
Transfer from the club to the immersion spot.
Rewards!
9,90€

Recover the 3% value of each purchase. Rewards can be used in future purchases
Can we help you? Give us a call!
0034 91 790 79 09
How much would you pay for this offer?
Questions and answers about the activity
Questions with the reservation? Call us at 0034 91 790 79 09!
Map

Updating the map...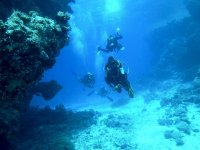 Advanced Open Water Diver course, Radaluz
Puerto Deportivo de Radazul, junto a las oficinas del puerto. Radazul