Tour of mysteries of the Castilian Court Madrid
SKU: 18013
Description of Tour of mysteries of the Castilian Court Madrid
If you're looking to discover a different side of Madrid, this guided tour will let you learn the dark scheming that took place in the Castilian Court.

You will be surprised to find out that the real stories always surpass the fictional versions. In other words, you will learn how the Madrid of yesteryear was brimming with all the elements you could find in any of today's great movies: ambitions, power, betrayal, love, sex or hate.

We will help you forge an image of the characters appearing in these stories in a guided tour that will take us from Ópera to Plaza de la Paja square, entering your story while listening to the great explanations of our expert in history.

Nobody who passes by Madrid should miss out this route!

Necessary group of at least 4 people, in addition to the guide. And if you want, you can turn it into a private tour. Consult us and choose.

* Check our discounts for large groups.
What does the activity include
"Ambitions and betrayal in the Castilian Court" guided tour
Spanish speaking guide
Documents
How long the activity lasts
Duration will be approximately 2.30h
When your activity starts and finishes
We can adapt to your requests. Subject to availability.
Basic information
Rewards!
0,30€

Recover the 3% value of each purchase. Rewards can be used in future purchases
How much would you pay for this offer?
Questions and answers about the activity
Map

Updating the map...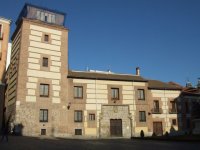 Tour of mysteries of the Castilian Court Madrid
Calle Parque Eugenia de Montijo, 18 Madrid (City)