Horse Riding in Conil de la Frontera 90 min
SKU: 35801
Conil De La Frontera (Cádiz)
Description of Horse Riding in Conil de la Frontera 90 min
If you are a horse lover and you like to go out to the countryside, come with us to do a wonderful route of 1 hour and a half along the Coast of Cadiz.

We will see incredible places such as the pine forest of Roches, beautiful viewpoints and a spectacular cliff that will make you feel free in Conil de la Frontera.

Whether you are a beginner or not, we will teach you everything you need to ride the horse like a real rider. You will be accompanied by qualified guides who will help you throughout the route and show you the beauty of the surroundings.

It is a great route to do with children, older than 7 years, families and friends.
What does the activity include
Stroll by horse
Equipment needed to carry out the activity with the horses (Horse riding helmet)
Training previous to the route
Instructor-guide during the route
How long the activity lasts
The route will have a duration of 1 hour 30 minutes.
When your activity starts and finishes
8 AM to 2 PM or 4 PM to 8 PM
Rewards!
1,20€
Recover the 3% value of each purchase. Rewards can be used in future purchases
Can we help you? Give us a call!
0034 91 790 79 09
How much would you pay for this offer?
Questions and answers about the activity
Questions with the reservation? Call us at 0034 91 790 79 09!
Map

Updating the map...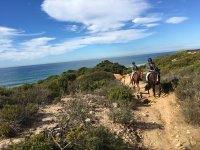 Horse Riding in Conil de la Frontera 90 min
Carretera de la Petit Conil De La Frontera