Horseback riding from Hervás 2 hours Vía Verde
SKU: 61896
Aldeanueva Del Camino (Cáceres)
Description of Horseback riding from Hervás 2 hours Vía Verde
Come with us to ride a horse on the Vía Verde from the town of Hervás, the capital of the region of Ambroz Valley With 2 hours of travel, the guide will take you through several points worthy of rural tourism in this part of northern Extremadura.

First, we will introduce you to your horse and tell you what to do and how to handle it to follow the route calmly and without frights, except those that are going to cause you the wonderful views that we will go through the road. Of course, the route is not fixed, so we can also go through other emblematic places this area limits with Salamanca's Sierra de Béjar.

The Heidi route is one of them, a pine forest over 1,000 meters high with an amazing landscape, from where you can see the town of Hervás, Mount Pinajarro and the beginning of the Sierra de Gredos.

Two hours is a good duration if you have little experience riding a horse (although it is also recommended for all types of rider). The important thing is to feel the connection with the horse and with the environment that surrounds us, and that we are sure that you will love it

* The maximum weight allowed is 95 kilos and the minimum age is 10 years.
What does the activity include
Tour guide
2-hour walk
Riding equipment
How long the activity lasts
This horse ride in the Ambroz Valley lasts 2 hours.
Rewards!
0,75€

Recover the 3% value of each purchase. Rewards can be used in future purchases
Can we help you? Give us a call!
0034 91 790 79 09
How much would you pay for this offer?
Questions and answers about the activity
Questions with the reservation? Call us at 0034 91 790 79 09!
Map

Updating the map...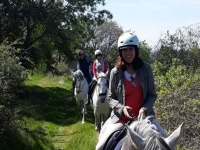 Horseback riding from Hervás 2 hours Vía Verde
Carretera Nacional 630, km 435 Aldeanueva Del Camino