Horse riding Camí de Cavalls 1 hour
SKU: 60966
Ciutadella De Menorca (Menorca)
This is deal for adults
In case you plan to bring kids to the activity, an offer for kids is available
Description of Horse riding Camí de Cavalls 1 hour
In our equestrian centre in Menorca, we have thought that traveling to this wonderfund island and not going across their beaches riding a horse is crazy. Therefore, we want you to have the opportunity to do it with our 1 hour tour which will let you going along the Ciutadella southern coast.

Riding one of our horses, you will start this tour by the coast across Camí de Cavalls. It is a famous path which totally surrounds the island. Besides, there are plenty of geographical features which will be showing up on our way we are sure you will love: low cliffs and white sand beaches such as Banyuls and Bellavista, both of them located on Son Saura setting.

The setting of the horse riding tour is not difficult, most of it is flat. That is why you and your horse will not face any problem when doing it. Bear in mind that this tour is to enjoy the landscape and Menorca nice weather and it is perfect for everyone, either children, youngsters or adults.

A qualified instructor will accompany you along the activity. Besides, before starting the tour, they will explain the tour and the basics of horse riding to you.
What does the activity include
Guide/instructor.
Horse riding tour.
Insurances.
How long the activity lasts
The horse riding tour across Menorca takes 1 hour approximately.
When your activity starts and finishes
Please, check for availability.
Latest booking

17 days ago
Rewards!
0,90€

Recover the 3% value of each purchase. Rewards can be used in future purchases
How much would you pay for this offer?
Questions and answers about the activity
Map

Updating the map...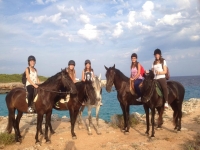 Horse riding Camí de Cavalls 1 hour
Carretera Cala'n Bosch, km 6 Ciutadella De Menorca