Estate rental celebrations in Fernán Caballero
SKU: 59167
Fernancaballero (Ciudad Real)
Description of Estate rental celebrations in Fernán Caballero
For you to celebrate all your events with maximum privacy and discretion, we have created a unique space where you can gather from a minimum of 15 people to more than 100.

The farm located in Fernán Caballero, has all the elements you may need; such as paella pan, barbecue, toilets, indoor lounge areas and outdoor snack spaces.

For those who like sports, it has an assault course, sports court and swimming pool. If what you like is to sing, we have a stage ready for you to give your everything with your friends. Even if you come with children, there is no need for you to worry, because there is also an area for them where they will have a sandpit, a mini assault course, a tyre area and many more games.

So do not hesitate to consult our services if you want to organize a special event. From a children's party to an end-of-course trip, or team building event, since we also work for companies, cooperatives, sports clubs, schools, town halls or non-profit organizations.

In addition, if you want to include any service such as waiter, chef, bouncy castle, gifts and piñatas, monitors or personalized shirts you just have to ask us to make a budget for you. Surely it will fit your plans! Because we have a discount for you per number of attendees.
What does the activity include
Access to the different areas of the farm: children's area, sand pit, sports area, multipurpose room, parking area, swimming pool ...
Chairs
Tables
Refrigerators / bottle racks
Barbecue
How long the activity lasts
You can stay as long as you need and use all of our facilities.
When your activity starts and finishes
From 4 in the afternoon.
Rewards!
0,14€
Recover the 3% value of each purchase. Rewards can be used in future purchases
Can we help you? Give us a call!
0034 91 790 79 09
How much would you pay for this offer?
Questions and answers about the activity
Questions with the reservation? Call us at 0034 91 790 79 09!
Map

Updating the map...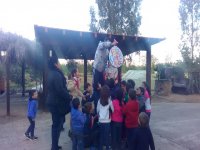 Estate rental celebrations in Fernán Caballero
Camino Encía de la Gitana s/n Fernancaballero