Home Entertainment for Children Huelva, 2 hours
SKU: 50167
Sanlucar Del Guadiana (Huelva)
Description of Home Entertainment for Children Huelva, 2 hours
As we know that all events organized for children need to have a special entertainment in order to enjoy a good time, we offer you a party entertainment activity session.

We will go from Sanlúcar del Guadiana to any place you tell us in the province of Huelva. The transport is free for the first 30 km or less from our main building. If the distance required is larger, you will have to pay a special fee depending on the number of km we have to do.

The entertainer will be aided by a stereo system we will carry too to organize different activities and games with your children playing music.

The children entertainment activity session will last two hours. You can hire larger or shorter sessions, depending on your own planning. Contact us to talk about prices.

Get the perfect party for your children with this special offer!


What does the activity include
Two-hour children entertainment activities.
Stereo system.
Civil Liability Insurance.
How long the activity lasts
The whole entertainment activity will last two hours.
Transport
If you are less 30 km far from Sanlúcar del Guadiana, transport is included in the price. You will pay depending on the number of km with a larger distance than 30 km.
Rewards!
3,60€
Recover the 3% value of each purchase. Rewards can be used in future purchases
Can we help you? Give us a call!
0034 91 790 79 09
How much would you pay for this offer?
Questions and answers about the activity
Questions with the reservation? Call us at 0034 91 790 79 09!
Map

Updating the map...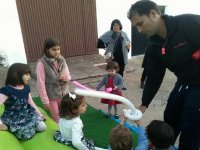 Home Entertainment for Children Huelva, 2 hours
Sanlúcar Del Guadiana Sanlucar Del Guadiana