Complete Kitesurfing Equip. 1h Rental, Guardamar
SKU: 51279
Guardamar Del Segura (Alicante)
Description of Complete Kitesurfing Equip. 1h Rental, Guardamar
Are you a fan of the water and the waves? Would you like to feel the pure adrenaline and extreme sensations whilst flying? Then, you know that your sport/ thing is kitesurfing, that great water sport that reunites a lot of followers.

Well, if you already have practiced this sport and would like to maintain contact with it, this is the opportunity you were looking for, since we offer you to rent all the pieces of equipment, both the surfboard and kite, for one hour. That way, you will enjoy the waves and wind currents in all its splendor on your own.

This will save you to buy all the equipment, which is really expensive and enjoy more the opportunities that the sea offers.

Forget about the uncomfortable traveling of holding heavy materials to enjoy what you like the most. We ut at your disposition the best equipment.

Come, join us, and rental fun times.
What does the activity include
Rental of the kite
Rental of either the board or the bar
How long the activity lasts
The duration of this rental will be 1 hour.
Rewards!
0,60€
Recover the 3% value of each purchase. Rewards can be used in future purchases
Can we help you? Give us a call!
0034 91 790 79 09
How much would you pay for this offer?
Questions and answers about the activity
Questions with the reservation? Call us at 0034 91 790 79 09!
Map

Updating the map...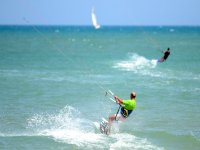 Complete Kitesurfing Equip. 1h Rental, Guardamar
Puerta de Damasco número 3, 4 piso, puerta2 Guardamar Del Segura