Weekend of adventure for groups in Gredos
SKU: 4981
Description of Weekend of adventure for groups in Gredos
Enjoy a weekend in the Sierra de Gredos that you will be able to share with your friends ,from Friday to Sunday.

You will sleep in a rural hostel and you will practice:

-Zip wire: you will complete a circuit between trees that will demand diverse skills to overcome different test.
-BBT: a route by mountain bikes around the area.
-Archery: it is the perfect moment to find out who has the best accuracy among all of you.
What does the activity include
Material for the activities.
Instructors
Lodging
Lunch: judías de Barco or patatas machaconas, Avilanian beef, typical Avilanian dish.
How long the activity lasts
From Friday in the evening until finishing the Sunday activities.
Accommodation
Two night accomodation with full pension in La Ardilla hostel
Rewards!
2,37€
Recover the 3% value of each purchase. Rewards can be used in future purchases
Can we help you? Give us a call!
0034 91 790 79 09
How much would you pay for this offer?
Questions and answers about the activity
Questions with the reservation? Call us at 0034 91 790 79 09!
Map

Updating the map...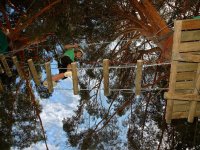 Weekend of adventure for groups in Gredos
Carretera de Barco de Ávila s/n Hoyos Del Espino