Paintball game for kids in Chiclana, 75 paintballs
SKU: 40081
Chiclana De La Frontera (Cádiz)
Description of Paintball game for kids in Chiclana, 75 paintballs
We have a great novelty in our paintball field in Chiclana: now children from 7 to 14 years old can come and play too!

These paintball games are carried out with groups of minimum 8 participans and maximum 15.

We will provide the child with a special paintball gun for children, so every game is 100% safe. Each child will have a protection mask, a JT paintball gun and an ammunition of 75 paintballs.

You can purchase extra loads of paintballs for a economical cost. In this way, your chi can continue playing and enjoying paintball for more time!

They will have cold drinks for refreshing themselves after the game.

We will also take pictures while they play for you to dowload them afterwards and thus keeping a great memory.

The game every child wants to try!
What does the activity include
Field with artificial grass
Competition obstacles
Expert instructors
Ammunition of 75 paintballs
Changing rooms
Privvate parking
Cold drinks
Barbecue area
Free photos
How long the activity lasts
The paintball game will take 1 hour and 30 minutes
When your activity starts and finishes
From 10.00 to 11.30 hours From 12.00 to 13.30 hours From 16.00 to 17.30 hours
Rewards!
0,30€
Recover the 3% value of each purchase. Rewards can be used in future purchases
Can we help you? Give us a call!
0034 91 790 79 09
How much would you pay for this offer?
Questions and answers about the activity
Questions with the reservation? Call us at 0034 91 790 79 09!
Map

Updating the map...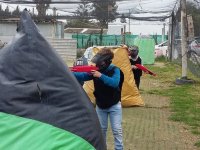 Paintball game for kids in Chiclana, 75 paintballs
Pinar de los Franceses Chiclana De La Frontera