Quad tour for 2 persons Asturias Cangas de Onís 1h
SKU: 15813
2

)

Excellent!
(
2

)

Excellent!
(
Description of Quad tour for 2 persons Asturias Cangas de Onís 1h
Enjoy Asturias' beautiful landscape through a very special route with whoever you want.

In this 2 hours quad tour, the quads are for 2 persons, so you can go accompanied with whoever you want. The tour is made at the Cangas de Onís town surroundings, in front of the Picos de Europa. During this tour, you'll experience the astonishing landscapes of the zone.

Our specialized instructors will teach us the quad's basic concepts and the security measures so our only worry would be having fun. Besides, our quads are automatic, so the only thing you'll need to do is accelerating and braking.

Spend a wonderful day on a quad, gazing idyllic landscapes.

*This offer covers the cost of the 2-up quad.
**Drive licence is required.

This activity is available on weekends between the 1st of April and the 30th of October. On summer season, the activity can be carried out all days of the week. If out of seasonm two vehicles are required to perform the activity.
What does the activity include
1 hour 2-up quad tour.
The required material for the activity.
Specialized instructor.
Accident insurance
Civil liability insurance.
How long the activity lasts
The 2-up quad route takes 1 hour.
When your activity starts and finishes
Our schedule for the quad route is: on mornings, from 11:00 to 13:00 hours, and on afternoons, from 16:00 to 19:00 hours,
Rewards!
1,20€
Recover the 3% value of each purchase. Rewards can be used in future purchases
Can we help you? Give us a call!
0034 91 790 79 09
How much would you pay for this offer?
Questions and answers about the activity
Questions with the reservation? Call us at 0034 91 790 79 09!
Map

Updating the map...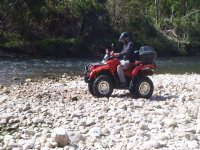 Quad tour for 2 persons Asturias Cangas de Onís 1h
Carretera de Arriondas – Cangas de Onis, N-625, Km 162 Arriondas