Quad route for 1-2 people Montnegre 2 hours
SKU: 60879
Santa Susanna (Barcelona)
Description of Quad route for 1-2 people Montnegre 2 hours
Barcelona has many places to visit and one of them is the natural area of Montnegre. If you like motor sports, going over mountains and feeling the adrenalin going through impassable settings, you need to sign up for our quad route. You can choose between single-seating and two-seating quad.

Our 450cc quad has capacity for two people and it will allow you to go through the mountain paths we have planned to visit in this route. One of our guides will lead the way for the 2 hours the activity lasts.

Whether you already have experience or not with this type of vehicle, you will be able to enjoy every second of the route. Our guide will adapt the routeto the participants' skills. The route only can be organised with a minimum of 2 quads.

Bear in mind:

*You need to have a driving licence.
**A minimum of 2 quads is needed to organise the activity.
***You need to have a credit card and leave a deposit of 300€.


What does the activity include
Choosing between single-seating and two-seating quad.
Guide.
How long the activity lasts
The two-seating quad route in Montnegre Park will have a duration of 2 hours.
When your activity starts and finishes
The routes will start at 10:00 in the morning. It is necessary to book in advance.
Latest booking

51 days ago
Rewards!
2,70€

Recover the 3% value of each purchase. Rewards can be used in future purchases
Can we help you? Give us a call!
0034 91 790 79 09
How much would you pay for this offer?
Yumping is committed to you
Yumping Protection Guarantee

We´ll NEVER leave you hanging. If bad weather or other unforeseen problems arise with the organising company, we will do our best to reschedule, or find the equivalent activity
100% Secure Payment

Payment is 100% secure, as it uses the same technology used by major banks for their transactions. We protect your personal information, just like any regular store or restaurant
Right to review

Our clients give feedback to us after every event, ensuring that the quality of the activities that we offer are highly regarded
Return to your wallet in 14 days

If you are not satisfied with your purchase you can change it for any other activity or store the amount in a virtual wallet provided it is within 14 calendar days of purchasing the activity (except for purchases with less than 14 days, consult terms).
Questions and answers about the activity
Questions with the reservation? Call us at 0034 91 790 79 09!
Map

Updating the map...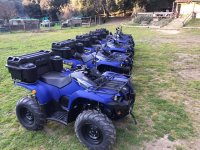 Quad route for 1-2 people Montnegre 2 hours
Camí de la Riera de Santa Susanna Santa Susanna