Rafting on Noguera Ribagorzana River, 3 Hours
SKU: 18748
84

)

Excellent!
(
84

)

Excellent!
(
El Pont De Suert (Lleida)
Description of Rafting on Noguera Ribagorzana River, 3 Hours
If you're an adventurer looking to get your adrenaline fix, join us for this rafting session on the Noguera Ribagorzana river in Lleida.

We usually tackle the stretch between Montanuy and Escales, a 7.5 mi (12km) descent during which we will have to circumvent obstacles and surpass the other challenges thrown at you by the river. The activity along with the adrenaline rush it provides come to an end at Pont de Suert.

Our supervisors will accompany you at all times and we will provide you all the necessary gear.

You may also choose from our other offers.

Ready for an adventure?

*Participants must bring a towel, swimsuit and sports shoes they don't mind getting wet.
** The meeting point is Carretera Nacional 230, KM 121,700, Pont de Suert.


What does the activity include
3-hour rafting session.
Gear.
Supervisors.
Accident Insurance and Civil Responsibility.
How long the activity lasts
The duration of the activity is one hour and a half, approximately, but it three hours are booked, considering the group´s formation and the equipment hand over.
When your activity starts and finishes
At 9.30 AM and 3.00 PM
Transport
Transportation from the meeting point to the activity included.
Rewards!
0,90€
Recover the 3% value of each purchase. Rewards can be used in future purchases
Can we help you? Give us a call!
0034 91 790 79 09
How much would you pay for this offer?
Questions and answers about the activity
Questions with the reservation? Call us at 0034 91 790 79 09!
Map

Updating the map...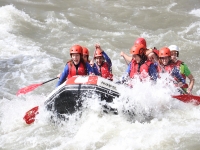 Rafting on Noguera Ribagorzana River, 3 Hours
Carretera Nacional 230, 121,700 pm El Pont De Suert