Difficult Escape room in Seville The Templar Path
SKU: 61391
Sevilla (Ciudad) (Sevilla)
Description of Difficult Escape room in Seville The Templar Path
Do you dare to travel to the Middle Ages and go across the Templar Path with your friends? In Seville this difficult room escape game awaits you, which you will have to solve in a maximum of 75 minutes.

Discovering this enigma that has been the protagonist of thousands of movies and books is In your hands. Legends of Templars are still present nowadays, and now we will test you on a visit to those centuries of magic, superstitions and knights. We warn you that you have to come with a clear mind, because the challenges to overcome in this escape room are of a high level, for those who have an analytical mind and who know how to separate truth from lies.

If you succeed in the mystery of this Path, you will be part of our community and will have access to the Scriptorium, the site where the codexs and artefacts which have been collected for centuries in the multiverse are kept. It is a changing place that you can only enter in if you are able to decipher the Templar Path.

And, if you want to complement the experience by making a toast to your success at the end, you have the option of hiring a supplement of a bottle of cava to celebrate this 12th century experience.
What does the activity include
Medieval escape
Game Master's Guide
Cava (extra)
How long the activity lasts
The total experience lasts 1 hour and 45, with 75 minutes of it dedicated to the game itself.
When your activity starts and finishes
9:30; 11:15 ; 16:45 ; 18:30 ; 20:15
Rewards!
0,35€
Recover the 3% value of each purchase. Rewards can be used in future purchases
Can we help you? Give us a call!
0034 91 790 79 09
How much would you pay for this offer?
Questions and answers about the activity
Questions with the reservation? Call us at 0034 91 790 79 09!
Map

Updating the map...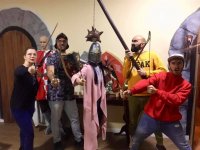 Difficult Escape room in Seville The Templar Path
Avenida de la Cruz del Campo, 7 Sevilla (Ciudad)