Offer for schoolchildren: 5 entire sailing days
SKU: 17268
Arenales Del Sol (Alicante)
Description of Offer for schoolchildren: 5 entire sailing days
Special offer for school groups.

If you are a school or a high school and are thinking about doing a water sports activity, we have the best option:

5 sailing days, in which you will do different activities related to this sport, so you can improve and gain knowledge with this nautical discipline at the same time you have fun and spend a great time with your friends and classmates.

We will carry out the activity in Santa Pola, in Gola beach. You will do this activity accompanied at all times by a specialized instructor that will explain everything you need in order to do the activity and to use the required technical equipment we will provide.

You will have a great time sailing since it is a team sport, in which you will work together to get the boat to the desired direction.

During the activity, in the following days, the students will go through the different boat checkpoints, from the sail handling to taking the helm.

There is always going to be an instructor that will guide and advise the students. Moreover, they will learn nautical terminology and to understand the effect of the wind on the sails.

You will spend 5 fascinating days, with no time to get bored.

Ready to set sail?



What does the activity include
Required technical equipment to do the activity.
Specialized instructors
Accidents and Liability insurances
VAT
How long the activity lasts
The activity will be carried out for 5 days. We will be an entire day sailing each day.
Rewards!
2,57€
Recover the 3% value of each purchase. Rewards can be used in future purchases
Can we help you? Give us a call!
0034 91 790 79 09
How much would you pay for this offer?
Questions and answers about the activity
Questions with the reservation? Call us at 0034 91 790 79 09!
Map

Updating the map...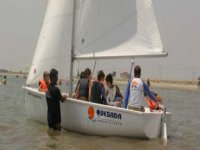 Offer for schoolchildren: 5 entire sailing days
Carrer Sant Bartolomé de Tirajana s/n – pasarela nº 3 Arenales Del Sol