Ski course for 3 hours in Masella for kids
SKU: 24570
Description of Ski course for 3 hours in Masella for kids
If you want to enjoy skiing, you just need to come to Masella station and have a wonderful time as you enjoy this course.

The course consists in a 3 hours lesson (from 10 am to 1 pm), made in small groups, and with students of similar level of skill and age.

We only teach the course during weekends and bank holidays.

As for the ages, our classes are aimed to younger participants, and we have 18 DIFFERENT LEVELS. Children over 10 years old must already have a medium level of skill in order to join this skiing course.

Basic course, for kids up to 10 years, with no previous experience
Intermediate level course, for young persons from 10 to 15 years, that have a little bit of experience.
You must call us to guarantee 100% the availability.

Do you have everything packed? Come to Masella!

*Minimum 2 persons to do this activity, otherwise you will be moved to a 1-hour private lesson available for 1 person.
What does the activity include
3 hours course.
The best teachers.
Small groups.
Perfect for children and adults.
How long the activity lasts
This course will have a duration of 3 hours.
When your activity starts and finishes
From 10 am to 1 pm.
Rewards!
1,44€
Recover the 3% value of each purchase. Rewards can be used in future purchases
Can we help you? Give us a call!
0034 91 790 79 09
How much would you pay for this offer?
Questions and answers about the activity
Questions with the reservation? Call us at 0034 91 790 79 09!
Map

Updating the map...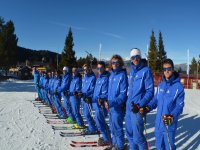 Ski course for 3 hours in Masella for kids
Avinguda Josep Maria Bosch Aymerich Masella