Parachuting in Matilla de los Caños, 3300 m High
SKU: 59852
Matilla De Los Caños (Valladolid)
Description of Parachuting in Matilla de los Caños, 3300 m High
You can enjoy a parachuting jump in Valladolid! The adventure will start at the aerodrome of Matilla, in the vicinity of Matilla de los Caños.

After a briefing, necessary to explain all the basics about parachuting, you will wear all the safety equipment and you will fasten your harness to the instructor's and you will get on the light aircraft.

The craft is going to take an altitude of 3 300 meters or 10 000 feet. This height is necessary for the free fall! After some unforgettable seconds, the instructor will open the parachute at the precise moment and you will slowly glide to the land.

If you want, you can book a videoing from inside or from the outside (from another jumper). You can ask us the fares without obligation.

You need to weigh less than 100 kg and have a height under 1'95 meters. You also need to prove lacking any heart problems and not having bone fractures and ear problems lastly.

* There are discounts for groups of 6 or more people.
What does the activity include
Parachuting jump
Expert instructor
Officially approved equipment
Insurances
How long the activity lasts
The free fall lasts less than a minute, afterwards you will spend some minutes gliding. Also, we have to add the preparation time and the ascent time.
When your activity starts and finishes
From 9:30 am till it gets dark.
Rewards!
7,20€
Recover the 3% value of each purchase. Rewards can be used in future purchases
Can we help you? Give us a call!
0034 91 790 79 09
How much would you pay for this offer?
Questions and answers about the activity
Questions with the reservation? Call us at 0034 91 790 79 09!
Map

Updating the map...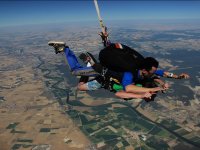 Parachuting in Matilla de los Caños, 3300 m High
Autovía Valladolid -Tordesillas, Salida 145 Matilla De Los Caños