Snowshoes rental in Baqueira
SKU: 23154
Urbanització Vaqueira beret (Vaqueira be (Lleida)
Description of Snowshoes rental in Baqueira
If you are the kind of person who is into exploring the snow-covered landscapes of Valle de Arán, then you are going to be interested in our offer. Rent our snowshoes for 6 hours, and embark on a snowshoeing route from our centre, located next to the Baqueira Beret ski resort. We will complete your equipment with the ski sticks, necessary to advance across the snow.

Besides, we will also offer you the option of trying different snowshoes models and see which one adapts the best to you. This can be a good way of deciding which will be the snowshoeing shoes that you might buy for yourself in in the future, once you have mastered the technique of this sport.

This age old means of transportation that is characteristic from the Poles, is a very easy and fun activity that will offer you the chance of hiking across the snow without being scared of sinking in. Don't forget to bring your sun protection and sunglasses, since will you also need to protect yourself from getting burned.

If there is a route you cannot miss, is the one which starts in Plà de Beret, which is 1,860 metres above sea level, all the way to the lost town of Montgarri. But don't forget that this is only a recommendation, and you are the one who decides your tour.

What does the activity include
Snowshoes and ski poles(sticks rental.
How long the activity lasts
Rental of the necessary equipment for the activity for a day, approximately 6 hours.
When your activity starts and finishes
Rental from 09:00 h. to 15:00h, approximately.
Rewards!
0,54€

Recover the 3% value of each purchase. Rewards can be used in future purchases
Can we help you? Give us a call!
0034 91 790 79 09
How much would you pay for this offer?
Questions and answers about the activity
Questions with the reservation? Call us at 0034 91 790 79 09!
Map

Updating the map...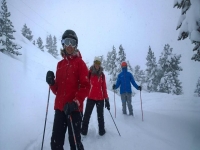 Snowshoes rental in Baqueira
Avenida Perimetral, s/n Urbanització Vaqueira beret (Vaqueira be