Manacor ultralight flight Shifts up to 2 people
SKU: 38108
Description of Manacor ultralight flight Shifts up to 2 people
At the Mallorca airfield , near Manacor , a great experience awaits you: a microlight flight baptism , to enjoy the most spectacular of all possible panoramic views.

The flight we offer you has a duration of 30 minutes, but we also give you the option of dividing it into two 15-minute flights, so that two participants can come and each enjoy a flight.

There is also the option of renting the plane if you are already a pilot and even receiving complete courses, if what you want is to get your license to fly ultralights.

If you later decide to take the full 3-axis ultralight flight course, we will discount the amount of the first 30 minutes of flight.

Ask us any possible questions that may arise. We want everything to be clear so that you can come as soon as possible to enjoy the experience!
What does the activity include
30 minutes of flight (to be divided between 1 or 2 participants).
Instructor Pilot.
Accident insurance.
Parking and cafeteria.
How long the activity lasts
The duration of the flight is approximately 30 minutes, which can be divided into a single flight, or in two of 15 minutes (in case two participants come on the same day).
When your activity starts and finishes
Rewards!
2,10€

Recover the 3% value of each purchase. Rewards can be used in future purchases
Can we help you? Give us a call!
+34 91 790 79 09
How much would you pay for this offer?
Questions and answers about the activity
Questions with the reservation? Call us at +34 91 790 79 09!
Map

Updating the map...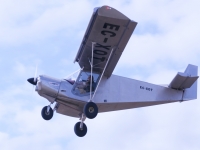 Manacor ultralight flight Shifts up to 2 people
Aeródromo Mallorca Vía Palma, 5 Manacor