3-Week English Camp in Oropesa 8 to 16:30 hours
SKU: 17508
Orpesa/oropesa Del Mar (Castellón)
Description of 3-Week English Camp in Oropesa 8 to 16:30 hours
From Monday to Friday from 8 AM to 4:30 PM for 3 weeks in Oropesa de Mar, takes place our urban camp for kids between 6 to 17 years. According to chosen option, this camp will unfold in English or in Spanish for foreigners, meaning it will be a fun way to strengthen the already know knowledge of this language whilst we enjoy Summer to enjoy new experiences.

We will divide the kids into 4 different groups, depending on their age to be able to offer a high-quality education and personalized treatment:
Group A from 7 to 8 years old
Group B from 9 to 12 years old
Group C from 13 to 15 years old
Group D from 16 to 17 years old
Among our activities' schedule, you can find we'll enjoy the beach and board games, and a range of workshops. Also, kids will be given 3 language lessons of the one they've chosen four times a week (on Mondays, Tuesdays, Thursdays and Fridays). On Wednesdays, we will go for a trip to visit the Aquarama water park in Benicássim (15 min from our camp), or Saltapins multi-adventure park in order to make the most of the zip lines, climbing walls and make a start into the archery world.

And, if the children join us during any of the first 3 weeks of July, they will also be able to choose any of the 3 extra activities that will also be available: robotics, water sports, and cooking.

The price of this pack includes breakfast and lunch costs. We offer special menus for intolerant children, since we will only be seriving them homemade food.

The camp is held from Monday to Friday, and you can choose the 3 weeks you want from the 1st of July to the 16th of August.

*Choose thes dates you want by selecting the first day of the camp in our calendar.
What does the activity include
Intercultural coexistence
Native or bilingual instructors
Workshops, games and activities
Required equipment
3-hour English lessons four times a week
Half-board, breakfast and lunch included
Insurances
How long the activity lasts
The length of the camp is 3 weeks during the months of July and August.
When your activity starts and finishes
From Monday to Friday, 8 AM to 5 PM hours.
Rewards!
10,50€

Recover the 3% value of each purchase. Rewards can be used in future purchases
Can we help you? Give us a call!
0034 91 790 79 09
How much would you pay for this offer?
Yumping is committed to you
Yumping Protection Guarantee

We´ll NEVER leave you hanging. If bad weather or other unforeseen problems arise with the organising company, we will do our best to reschedule, or find the equivalent activity
100% Secure Payment

Payment is 100% secure, as it uses the same technology used by major banks for their transactions. We protect your personal information, just like any regular store or restaurant
Right to review

Our clients give feedback to us after every event, ensuring that the quality of the activities that we offer are highly regarded
Return to your wallet in 14 days

If you are not satisfied with your purchase you can change it for any other activity or store the amount in a virtual wallet provided it is within 14 calendar days of purchasing the activity (except for purchases with less than 14 days, consult terms).
Questions and answers about the activity
Questions with the reservation? Call us at 0034 91 790 79 09!
Map

Updating the map...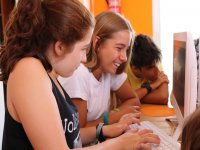 3-Week English Camp in Oropesa 8 to 16:30 hours
Vereda de la Didota s/n Orpesa/oropesa Del Mar