English Camp in Oropesa 3 weeks 8 to 16:30 hours
SKU: 17508
Orpesa/oropesa Del Mar (Castellón)
Description of English Camp in Oropesa 3 weeks 8 to 16:30 hours
From Monday to Friday from 8 AM to 4:30 PM for 3 weeks in Oropesa de Mar, takes place our urban camp for kids between 6 to 17 years. According to chosen option, this camp will be carried out in English or in Spanish for foreigners, meaning it will be a fun way to strengthen the already know knowledge of this language whilst we enjoy summer to enjoy new experiences.

We will divide the kids into 4 different groups, depending on their age to be able to offer a high-quality education and personalized treatment:
Group A from 7 to 8 years old
Group B from 9 to 12 years old
Group C from 13 to 15 years old
Group D from 16 to 17 years old
Among our activities' schedule, you can find we'll enjoy the beach and board games, and a range of workshops. Also, kids will be given 3 language lessons of the one they've chosen four times a week (on Mondays, Tuesdays, Thursdays and Fridays). Wednesdays will be reserved for day trips.

One week, we will go for a trip to visit the Aquarama water park in Benicássim (15 min from our camp), or Saltapins, a multi-adventure park in order to make the most of the zip lines, climbing walls and make a start into the archery world.

The price of this pack includes breakfast and lunch, both homemade by our cooking staff. We also offer special menus for children who suffer from any kind of food allergies.

The camp is held from Monday to Friday, and you can choose the 3 weeks you want from the 29th of June to the 14th of August.

*Choose the dates you want by selecting the first day of the camp in our calendar.
**If attending the camp on the week of the 29th of June, to the 24th of July, children will be able to swap their English classes for water sports activities.
What does the activity include
Intercultural coexistence
Native or bilingual instructors
Workshops, games and activities
Required equipment
3-hour English lessons four times a week
Half-board, breakfast and lunch included
Insurances
How long the activity lasts
The duration of the camp is 3 weeks during the months of July and August.
When your activity starts and finishes
From Monday to Friday, 8 AM to 4:30 PM hours.
Rewards!
10,50€

Recover the 3% value of each purchase. Rewards can be used in future purchases
Can we help you? Give us a call!
0034 91 790 79 09
How much would you pay for this offer?
Questions and answers about the activity
Questions with the reservation? Call us at 0034 91 790 79 09!
Map

Updating the map...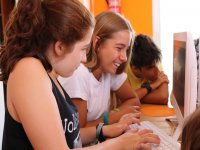 English Camp in Oropesa 3 weeks 8 to 16:30 hours
Vereda de la Didota s/n Orpesa/oropesa Del Mar