Languages Camp in Oropesa 1 week 8:00-20:00
SKU: 17650
Orpesa/oropesa Del Mar (Castellón)
Description of Languages Camp in Oropesa 1 week 8:00-20:00
We have the complete urban camp, a schedule from Monday to Friday, from 8 am. to 8 pm. which is intended for kids between 7 and 17 years old.

The camp takes place in the summer months, in Oropesa de Mar, between the 29th of June and the 14th of August, and it is taught by qualified or native teachers in both English and speakers of Spanish as a second language. We also have instructors with a Bachelor in Sports Sciences, and in leisure and free time activities. Furthermore, for a more professional learning and a closer treatment, the kids are going to divide into the age criteria into 4 different groups.

For 4 days each week, we will devote 3 hours to improve our English or Spanish for foreigners, but we will also have time to participate daily in workshops and games in the beach, as well as water sports (surfing, bodysurfing, paddle, kayaking and snorkelling).

Once each week, we will perform technical sports lessons in different sport disciplines. Wednesdays are the multi-adventure day and, for that reason, we will depart from our facilities to enjoy a very fun park with obstacles, rock walls, and zip-lines.

And those children staying with us between the 29th of June and the 24th of July will also be able to choose one from the extra afternoon classes that will be available only during those days: our robotics or cooking workshops. The little, and not so little ones, will be able to initiate themselves in the world of robotics and programming or, if they prefer to, they might bring out their inner chef by participating in the cooking activities we will also organise.

The price includes the breakfast, lunch and afternoon snack. Each of these meals is elaborated in our own kitchen so the quality is ensured.
What does the activity include
English or Spanish lesson for visitors
Nautical and sports activities
Multi-adventure activities
Equipment required to perform the activities
Multi-cultural convivence with foreign students
Breakfast, lunch and afternoon snack
Qualified instructors
Insurances
How long the activity lasts
The offer of the camp will last one week in the months of July and August.
When your activity starts and finishes
From Monday to Friday with schedules from 8 am. to 8 pm.
Rewards!
6,60€

Recover the 3% value of each purchase. Rewards can be used in future purchases
Can we help you? Give us a call!
0034 91 790 79 09
How much would you pay for this offer?
Questions and answers about the activity
Questions with the reservation? Call us at 0034 91 790 79 09!
Map

Updating the map...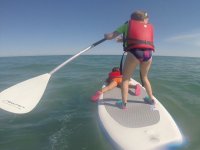 Languages Camp in Oropesa 1 week 8:00-20:00
Vereda de la Didota s/n Orpesa/oropesa Del Mar