4 activities + 2 nights in Celtic cabins, La Vera
SKU: 17629
Cuacos De Yuste (Cáceres)
Description of 4 activities + 2 nights in Celtic cabins, La Vera
Would you like to surprise a special person with something different that they will remember for the rest of their lives?

This amazing, unique getaway to the Yuste Ranch in Cuancos de Yuste, located in the La Vera region is the perfect plan!

You will spend 2 nights and 2 days in Celtic cabins ( 4 pers/ cabin max), each equipped with their own bathroom with jacuzzi and also chimneys. In addition, you will also enjoy access to shared areas as reunion rooms or a cellar dating back to the 15th century.

Yet the fun does not end here. Likewise, you can choose up to 4 of the following activities:

Canoeing.
80-meter zipline and a Tibetan bridge.
Rock climbing.
Rappeling.
Archery.
Horseback riding tour.
Get ready for the time of your life!

* The activities take place depending on the number of participants.
** The cabins are equipped with single beds. King or queen-size beds are not available.
What does the activity include
Equipment.
Certified supervisors.
Full-boarding accommodation in Celtic cabins equipped with jacuzzi.
Accident and Civil Liability insurance.
VAT.
How long the activity lasts
The activity has a duration of 2 days and 2 nights. Accommodation begins on Friday at 19.00 and ends on Sunday, after the breakfast.
Accommodation
2-night accommodation in Celtic Cabins equipped with jacuzzi and chimneys, including full boarding.
Rewards!
2,37€
Recover the 3% value of each purchase. Rewards can be used in future purchases
Can we help you? Give us a call!
0034 91 790 79 09
How much would you pay for this offer?
Questions and answers about the activity
Questions with the reservation? Call us at 0034 91 790 79 09!
Map

Updating the map...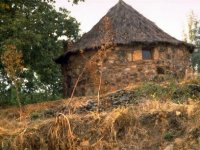 4 activities + 2 nights in Celtic cabins, La Vera
Finca la Granja de Yuste Cuacos De Yuste