Offers of 4x4 Tours Spain

349 Prices 4x4 Tours Spain
4x4 Off Road Guided Tours: Look up for prices, request your estimate and find the best offers in 4x4 driving clubs. Off road tracks and 4x4 experiencies are a perfect activity for birthday's parties, corporate entertainment, team building, social events, weddings and original gifts.
BEST-SELLING 4x4 Tours Offers in Spain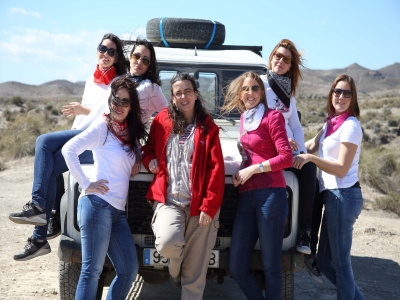 Tabernas, Almería
12 Bookings Verified
Last 18 days ago
Baza, Granada
9 Bookings Verified
Last 20 days ago
Most popular 4x4 Tours activities by area in Spain
Real 4x4 Tours booking experiences
5/5
(96 Reviews)
Jasone's experience
A highly recommended experience, especially for the guide. Thanks for everything, Fernando, it has been a very exciting morning.
Julio's experience
Very friendly and prepared guide. The driver also collaborates in locating birds and animals. Very well accompanied by my side of a future guide in an internship.
LORENA's experience
Very good experience, both the tour and the treatment received. The very friendly guide. We were able to see some animals and birds in the area.
Judith's experience
It has been a very beautiful route and we liked it a lot. Fernando the guide has been very nice and pleasant. We recommend the experience.
Maria's experience
It has been great, however you must inquire before making the visit to go on dates according to what you want to see. The guide knew a lot and passed on his passion during the route.
What are the most popular options when reserving 4x4 Tours?
12€-448€

Standard price range

127€

Average amount

3

No. of people
Real data obtained from Yumping bookings.
Do you prefer to buy or gif this activity?
Gift experiences without fixed date

13.59%

Activities with fixed date

86.41%
When do 4x4 Tours experiences take place?
Frequently asked questions about 4x4 Tours in Spain
You can buy or give away 4x4 Tours in Spain from 10€. There are 386 companies and you have 349 offers to choose the one you like the most.

The best-selling offers are:

Route in 4x4 through the 7 Lagoons of Geres 4 hours

The main locations to do 4x4 Tours in Spain are:

Malaga
Cáceres
Asturias
Barcelona
Granada
Jaén
Faro
Almería
Cádiz
Huesca
Ciudad Real
Madrid