"Xtreme" Banana Boat in Ibiza, 10 Minutes
SKU: 35194
Description of "Xtreme" Banana Boat in Ibiza, 10 Minutes
Summer arrives, the heat arrives and with it, the best aquatic adventures. Live in Ibiza one of the most exciting activities that can be done on the water: Xtreme banana boat!

You will sail on the waves, at impressive speeds, thanks to the towing force of our boat, controlled by an expert pilot, whose goal is that you have a great time, and in the meantime, you can take a dip.

This banana boat session will have an estimated duration of 10 minutes. You can go up to 5 people at a time in the banana boat. The more you are, the more laughter there will be!

The activity is indicated for all ages and people, under 14 years of age, always with the appropriate authorization from the parents.

Come! We promise you will not regret it!
What does the activity include
Life vest.
Accident and Civil Liability insurance.
Photography of the activity.
How long the activity lasts
For 10 minutes you can enjoy one of the most exciting experiences on the beach. The banana is towed by a boat, sailing the waves.
When your activity starts and finishes
Schedule availability: From 12 PM to 6 PM.
Rewards!
0,60€

Recover the 3% value of each purchase. Rewards can be used in future purchases
Can we help you? Give us a call!
0034 91 790 79 09
How much would you pay for this offer?
Questions and answers about the activity
Questions with the reservation? Call us at 0034 91 790 79 09!
Map

Updating the map...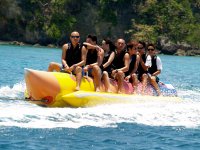 "Xtreme" Banana Boat in Ibiza, 10 Minutes
Carrer Ses Figueres, Playa d'en Bossa Eivissa